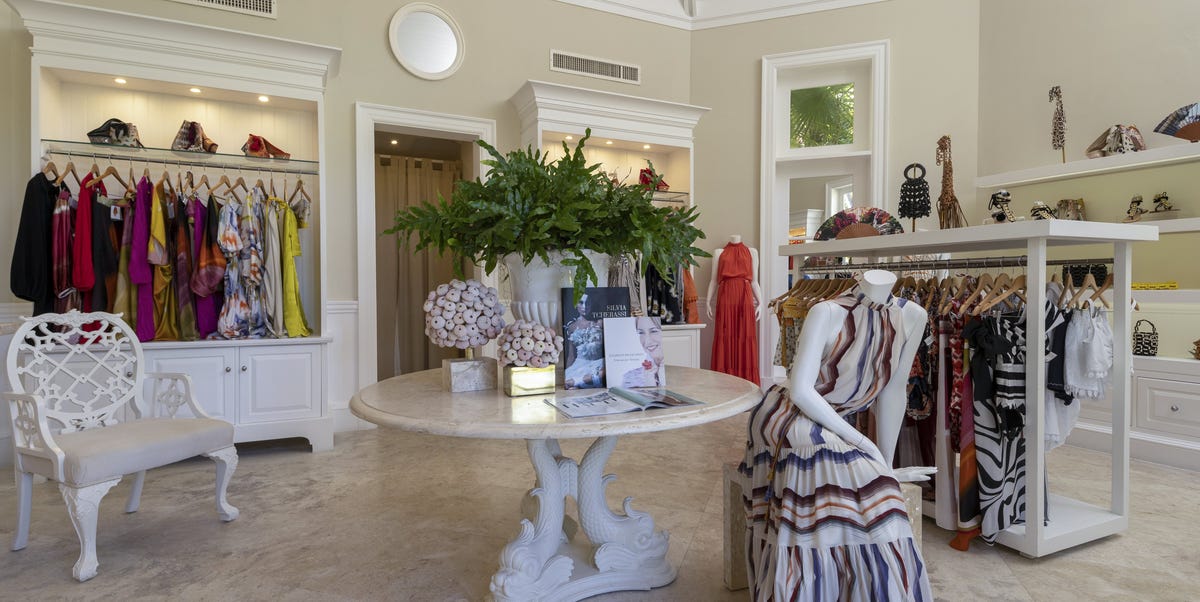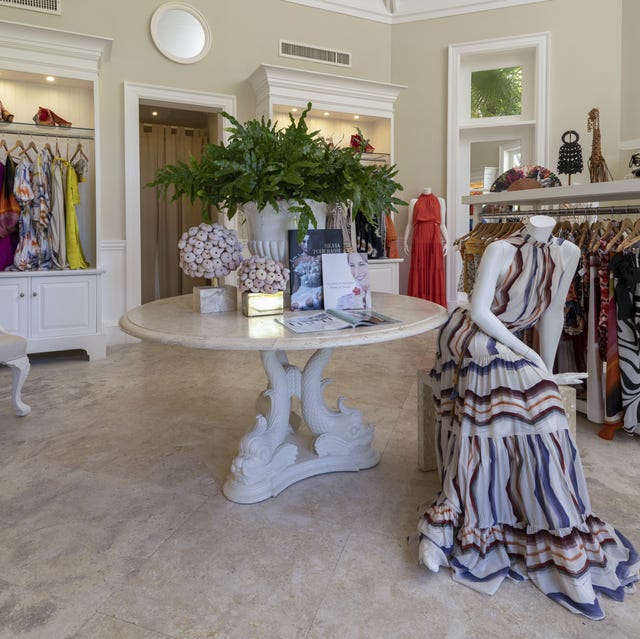 Courtesy of Silvia Tcherassi
1 Silvia Tcherassi Opens New Boutique in The Dominican Republic
Who: Silvia Tcherassi
What: New seasonal boutique
Where: The Tortuga Bay Puntacana Resort & Club in the Dominican Republic
Why: Silvia Tcherassi and the Dominican Republic are a match made in fashion heaven, cemented by the fact that the Colombian designer beloved for her vibrant resortwear has opened a seasonal boutique at the iconic Tortuga Bay Puntacana Resort & Club in Punta Cana. Designed by Oscar de la Renta, the scenic property boasts 13 beachfront villas, and now, an 1,000-square-foot store with an exterior that mimics the muted coral rock that can be seen across the resort grounds. Boasting a curated assortment from Tcherassi's resort 2022 collection, as well as limited-edition accessories handpicked by the designer, the boutique is the perfect shopping destination for locals and visitors alike. What's more, a percentage of all sales will benefit Save the Children.
2 Givenchy Drops the Kenny Handbag
Who: Givenchy
What: New handbag for SS22
Where: Available online at givenchy.com and at select Givenchy boutiques
Why: With all the fresh takes Matthew M. Williams has brought to Givenchy since his appointment as creative director, the newly released Kenny handbag is even further proof of the designer's knack for marrying hardware and luxury. With an intricate, rounded construction and distinctive hand-draped folds interspersed with signature G-Cube elements, not to mention a couture version made of romantic organza, the accessory nods to the history of the Parisian design house, while another variation embroidered with mother of pearl serves as the star of the brand's SS22 campaign. There's also the precious mini satin version, which has a feminine allure and discreet closure for safekeeping your evening essentials. Whether you're hitting the step and repeat or stepping out in street style-ready pieces, Givenchy's Kenny is the essential accessory of the season.
3 Brandon Maxwell Debuts Spring Collection for Walmart
Who: Brandon Maxwell and Walmart
What: Spring collection debut
Where: Available online at walmart.com and in stores
Why: Congratulations are in order for Brandon Maxwell. The designer has just reached his first-year mark as creative director for Walmart's elevated fashion labels, Free Assembly and Scoop. In celebration of this milestone—and Maxwell's favorite fashion season—he's debuting an expansive spring collection rife with coordinated options for the whole family. Blooming with freshness and renewed energy, Free Assembly will offer 500 pieces for men, women, and children, while Scoop will focus on denim and trend-driven prints in timeless silhouettes. We can't wait for spring either.
4 Lafayette 148 Dives Into Swimwear With L148 Swim
Who: Lafayette 148
What: Sustainably sourced debut swim collection
Where: Available online atlafayette148ny.com
Why: Lafayette 148 has been around New York for years, and during that time, it has transformed its trademark modern city-chic sensibility into a global lifestyle brand. Now, the company is bringing its innovative designs poolside for the first time with the launch of L148 Swim. Consciously crafted in Italy, the luxurious and sustainable fabrics used in the collection are sourced from reclaimed ocean plastics. Equal parts versatile and stylish, the new reversible one-piece and two-piece swimsuits give the wearer the option to style for lounging or sunbathing (we especially love the breezy towel made from an airy blend of silk and cotton). Consider your summer shopping list handled.
5 Khaite and Elhanati Collaborate on Minimalist Jewelry Collection
Who: Khaite and Elhanati
What: Limited-edition jewelry collection
Where: Available online at khaite.com and elhanati.com
Why: Several influences are at play in the newly released collab from Khaite and Elhanati. Firstly, the cultural touchpoints: New York-based Khaite and Elhanati's Middle Eastern and Scandinavian roots meet in the limited-edition New Signatures collection, consisting of two belts, two emerald brooches, a barrette, and a pair of earrings, all crafted with polish and designed through the exchange of opposing ideas. Geometric art deco patterns with richly textured precious metals combine the oeuvres of both brands and result in an infinitely wearable aesthetic. The partnership embraces the unexpected across a continuum of forms, ranging from materials to the designers's heritage. Above all, New Signatures melds two distinct styles into what are sure to become precious heirlooms, blending several storylines into one timeless collection.
6 Alberta Ferretti and Wolford Create Intimate Capsule Collection
Who: Alberta Ferretti and Wolford
What: Collaborative 10-piece collection
Where: Available online at wolfordshop.com
Why: Striking the balance between sensual, chic, powerful, feminine, and comfortable is no small task, yet Alberta Ferretti and Wolford have achieved just that. Together, the two brands have created a sophisticated capsule collection of 10 bodysuits, dresses, tops, and tights, which combines Wolford's mastery of second-skin pieces, and reveals the elegance informed by Ferretti's impressive fashion career. The range comes in neutral colors of white, black, and powder pink, with detailed embroidery that accentuates shapely curves with supple fabrics. In a uniquely sensual contrast, opaque and transparent textures shape the body in effortlessly elegant lines. The collaboration arrives promptly for transitional spring dressing.
7 Mulberry Introduces a Brand-New Pillow Bag
Who: Mulberry
What: The Mulberry Softie
Where: Available online at mulberry.com and in stores
Why: Mulberry's new bag is called the Softie, and rightfully so— it's so plush and pillowy that it practically functions as a bedtime accessory. The three styles of quilted bags are a fresh and modern take on a design that emphases texture above all else. The Big Softie is a tote version designed as a carry-all utility piece, while the Little Softie is conveniently sized for all your daily essentials and easy transport. The entire Softie series is crafted from the highest quality Nappa leather in a buttery finish, and come filled with sumptuous and responsibly sourced feather down. The brand's signature Postman's Lock takes a departure on a softer silhouette with a bolder color palette than what's usually ascribed to Mulberry. Take your Softie anywhere for a lively pop of color and something cozy to hold.
8 Hanifa Introduces Drop II
Who: Hanifa
What: Drop II
Where: Exclusively online at hanifa.co
Why: Washington, D.C.-based designer Anifa Mvuemba most recently debuted Hanifa's FW21 collection at the National Portrait Gallery. Now, with Drop II, Hanifa—which translates to "true believer" in Arabic—has introduced a continuation to the initial range. The six new looks wholly encapsulate the mood and ambiance of the Hanifa brand. Rich fabrics and opulent colors signify all the best elements of Mvuemba's craftsmanship. The embodiment of the past, present, and future of Hanifa is evident in the unique textures and inclusive sizing. Drop II alludes to the tone Mvuemba aims to set as a designer, as well as her beliefs for where Hanifa stands in the future of the fashion landscape. Psst, it's looking bright.
9 Prada's Private Club Heads West
Who: Prada
What: Prada Mode, a traveling social club
Where: Genghis Cohen in Los Angeles
Why: For the uninitiated, Prada Mode is Prada's roving social club with a pop culture bent, offering members unique experiences in the realms of art, music, dining, and good old-fashioned discussion. Recently, the Italian house celebrated the seventh (!) iteration of the venue with Prada Mode Los Angeles, held at the New York-style Sichuan restaurant Genghis Cohen in L.A. Boldly lit monitors were peppered throughout the space, facilitating phone exchanges and providing personal décor that was both exhilarating and highly personal. The event featured an art installment called "HelLa World" by intersectional feminist Martine Syms. Universally beloved actors such as Jeff Goldblum, Rashida Jones, and Storm Reid were also in attendance. With Prada Mode Los Angeles, Prada has brought together fashion enthusiasts on the West Coast for animated conversations surrounding the topics of Los Angeles, cinema, and contemporary art.
10 Peter Do Launches Handbags at Bergdorf Goodman
Who: Peter Do
What: New handbag launch at Bergdorf Goodman
Where: Available exclusively online at bergdorfgoodman.com and at Bergdorf Goodman
Why: Bergdorf Goodman was ahead of the curve when the luxury department store invited Peter Do to join its Radar program for emerging designers. Of course, Do has been on a meteoric rise ever since. Now, Bergdorf's wants to propel the designer even further with the launch of Peter Do handbags. BG will be the exclusive destination for the sleek, minimal, modern, and highly covetable collection. As Peter Do's most vocal retail advocate from the beginning, Bergdorf Goodman will display its star designer's handbag launch with pride. We love a collab that keeps on giving.
11 Thom Browne Teases New Tartan Collection
Who: Thom Browne
What: Fall 2022 collection preview at NYFW
Where: Available online at thombrowne.com
Why: Did you know that tartan is so integral to Thom Browne's brand that the designer's trademark grey and navy fabrication is listed on the Tartan Registry of Scotland? Well, it is, and it made a special appearance at NYFW to boot. First featured in Browne's 2006 menswear collection as a classic wool twill produced by Lochcarron of Scotland, a tartan house that dates back to the 1800s, the latest iteration of the print is a sneak peek of the label's forthcoming fall 2022 collection. That's right: Thom Browne Tartan is scheduled to debut on April 29; in the meantime, you can see the print across an array of silk knits, parkas, accessories, skirting, tailoring, and, for the first time, childrenswear. To mark the release, Browne dressed Euphoria stars Angus Cloud and Maude Apatow, proving that this collection is sure to be a favorite among Gen Zers.
12 Loquet London and Heidi Bishop Partner on Porcelain Dish Set
Who: Loquet London and Heidi Bishop
What: Porcelain dish set
Where: Available online atloquetlondon.com
Why: Jewelry deserves a place to rest that's equally as pretty. Thankfully, two U.K.-based brands are teaming up to provide a chic handcrafted home for all your little trinkets and treasures. Loquet London and Heidi Bishop have released a four-piece set that reimagines Bishop's signature petite porcelain dishes, each inscribed with one of Loquet London's most popular charms: "if," "xo," the peace sign, and a heart. The dishes are a natural fit for storing rings, earrings, you name it—not to mention they sit beautifully on a vanity or bedside table. Your morning and evening routines just got a little bit more lovely.
13 Gucci Presents the Pineapple Collection
Who: Gucci
What: New collection and pop-up campaign
Where: Available online at gucci.com and at pop-ups in Beverly Hills, Calif., Chicago, Aventura, Florida, and Honolulu, Hawaii
Why: We're all likely experiencing some winter fatigue this time of year, but a new collection from Gucci could be the remedy. The Italian fashion house's tropical motif of pineapples and roses plays a cheery role in the combined aesthetics of collegiate garb and streetwear. The appropriately titled Pineapple Collection takes its inspiration from coats of arms associated with noble families and signature elements of historical flags. A pastel palette is complemented by deep blues and greens, while the same disruptive logo adorns an array of backpacks, totes, belt bags, suitcases, and smaller leather accessories. Ready-to-wear pieces ranging from formal wear to fleece tracksuits feature a patch referencing 22,705—the number of songs that include a reference to Gucci within the lyrics. With this clever nod, Gucci invites us to listen to our own respective Gucci playlists while sporting the new wares.
14 Short & Suite Lands at The Beverly Hills Hotel
Who: Short & Suite and The Beverly Hills Hotel
What: Limited-edition capsule collection of jewelry
Where: Available online at shortandsuite.com and at The Beverly Hills Hotel in L.A.
Why: Instagram-famous jewelry brand Short & Suite is paying homage to its hometown of L.A. by debuting a limited-edition collab with the iconic Beverly Hills Hotel, which has hosted Hollywood legends from Marilyn Monroe to Elizabeth Taylor. The collection features styles inspired by the historic property, including glitzy Swarovski stones to represent the chandeliers in the rooms and emeralds as a nod to the Polo Lounge. Finally, something better than room service!
15 Urban Outfitters and Miaou Collaborate on Exclusive Spring Collection
Who: Urban Outfitters and Miaou
What: Exclusive collaborative collection
Where: Exclusively available online at urbanoutfitters.com
Why: Y2K is blowing up our rhinestone-adorned flip phones, and who better to answer the call than Urban Outfitters and Miaou? The brands are joining forces for the first time with a special interpretation of the trending generation revival. The 10-piece capsule designed in part by Miaou's Alexia Elkaim was inspired by her youth, which took place during an era of blinged-out accessories and lip gloss galore. "Growing up shopping at Urban Outfitters, I drew inspiration from the things that were inspiring me during that time; namely butterfly prints and short denim dresses," Elkaim says. The collection consists of mini and bodycon dresses, baby tees, and coordinating sets, all done in catchy patterns and vibrant colors. Its derivation is authentic, while the construction reflects the modern motivation to create sustainable fashion options. All garments are made using recycled materials including denim, mesh, and 100 percent organic cotton jersey. The collab features a trending style yet remains true to lived memories of the 2000s. Cheers to that.
16 Gabriela Hearst and Clergerie Partner for SS22 Shoe Collection
Who: Gabriela Hearst and Clergerie
What: Shoe collection debut for SS22
Where: Available online at gabrielahearst.com and at Gabriela Hearst flagship stores in New York and London
Why: The Gabriela Hearst and Clergerie collaboration was first seen during fashion week SS22, but now it's officially stepping foot off the runway (woohoo!). The collection is a reinterpretation of the iconic Gabriela Hearst sandal with signature elements of Clergerie designs, incorporating artisanal and natural, low-impact materials. The brands developed the shoe line according to design principals by Clergerie's David Tourniaire, a master shoemaker from Romans-sur-Isère in France, once the heart of French shoe production, where Clergerie established its roots back in 1895. The maison's signature materials are wood and raffia, exhibited alongside cork elements from Gabriela Hearst that don't require deforestation, using only shavings from the trunk instead. The dual use of natural elements is the essence of the capsule, connecting the branches between fashion and tree huggers.
17 Markarian Teams Up With Maria Luca for First-Ever Footwear Collection
Who: Markarian and Maria Luca
What: Collaborative shoe collection
Where: Available online atmarkarian-nyc.com and maria-luca.com
Why: The story of this shoe collaboration goes back generations, beginning at the moment when Markarian's Alexandra O'Neill and Maria Luca founder Carlotta De Luca were randomly introduced to each other by a mutual friend. The two quickly discovered that they both launched their respective brands in honor of their grandmothers. (Cue the awws). It makes sense, then, that they decided to team up on a collection that reflected the reverence they hold for their families' matriarchs. Markarian's partnership resulted in the label's first-ever shoe collection, consisting of four styles: a slingback, a sandal, a boot, and a ballerina flat—a nod to Maria Luca's signature silhouettes, with the added bonus of its sumptuous fabrics. We think their grandmothers would be very proud.
18 Birkenstock 1774's Second Drop Blends Luxury With Utility
Who: Birkenstock 1774
What: New styles from the Birkenstock 1774 collection
Where: Available online at1774.com starting Feb. 24
Why: Birkenstock 1774's initial drop showcased the brand's ability to embrace the pragmatic function of luxury footwear. Now comes its second foray into elegant reinventions of the classic Birkenstock slip-on, with fresher and bolder designs. Take the classic Arizona and Boston models for example, which have been reimagined for fashion statement-makers, while the focus remains on a shoe made for urban exploration. Birkenstock's industry knowledge dates back to its origins in rural 18th century Germany. With that kind of history, there's little doubt that this latest range will join its legacy of luxurious, unique, and high-quality footwear.
19 Chloé Unveils Its Revamped Store in SoHo
Who: Chloé
What: Remodeled boutique
Where: Greene Street in SoHo, New York
Why: The design of Chloé's newly revamped SoHo store is thanks in large part to the work of two experts in furniture procurement, English American woodworker Benjamin Gavro and French sculptor and designer Antoine Dumas. Creative director Gabriela Hearst commissioned the two masterful craftsmen to breathe new life into the French house's retail space, offering customers an immersive shopping experience. Furniture by renowned designers from the early European, Tropical, and American Modernist movements as well as the Bauhaus school can be found throughout the space. And that's not all. "They not only sourced and gathered reclaimed wood from New York water tanks and designed the pieces, but also made them from scratch themselves," says Hearst. "Working with reclaimed wood can be challenging, as they have to clean up old metal nails and handle other constraints. But they did it so brilliantly. We don't disagree.
20 Et Ochs Debuts SS22 Collection
Who: Et Ochs by Michelle Ochs
What: SS22 collection
Where: Available online at etochs.com
Why: Ever since launching Et Ochs, Michelle Ochs has evolved as a woman, a mother, and a designer⁠—and her latest collection for spring/summer 2022 is a testament to this fact. Rooted in artful tailoring and minimalist sophistication, the fresh designs are inspired by the work of German painter Peter Zimmermann, who had a penchant for balancing sculpture with fluidity. The seductive shapes of SS22 come in sumptuous colors like buttercream, frost, dark chocolate, and dune, which contrast with fluorescent tones of neon lime and fuchsia.The smocked garments and glossy straps feature elastic detailing that replaces the need for any seamed closures. "Et Ochs is built on a foundation of impeccable fit, innovative proportions, and a newfound sense of ease," Ochs exclusively tells ELLE.com. "My vision is to create timeless staples that blur the line between the desire to look sexy and feel comfortable."Every piece in the collection pays homage to the female form, informed by Ochs' own transformations of her identity.
21 Gentle Monster and Coperni Collab on Futuristic Sunglasses
Who: Gentle Monster and Coperni
What: Collaborative collection of sunglasses
Where: Available online at gentlemonster.com, coperniparis.com, and at select global retailers
Why: The future may be uncertain, but thankfully, Gentle Monster and Coperni's new collaboration can shield your eyes from whatever may come. The South Korean eyewear brand and French womenswear label partnered to create two styles of sunglasses inspired by 5G technology. 5G Bold references sci-fi cult classics like Robo-Cop, Back to the Future, and The Matrix, with aerodynamic lines and voluminous curves that look undeniably futuristic. The innovative designs come in a variation of black, white, and pink frames, with violet and brown gradient lenses. With refined lines and bold frames, these shades are ideal for fashion optimists looking to bring their style to the next level.
22 Marina Moscone Introduces UNIFORM
Who: Marina Moscone
What: New direct-to-consumer capsule collection, UNIFORM
Where: Available exclusively online at marinamoscone.com
Why: Marina Moscone's tactful approach to design begins by literally twisting and draping fabrics by hand. The designer then creates a modern silhouette that balances the masculine and feminine, creating a wardrobe that stands in equilibrium. Her new capsule collection, UNIFORM, centers on key tailored favorites like the best-selling streamlined boyfriend blazer, paired with a raw-edge seam flared trouser cut from deadstock fabric. The collection also includes a newly introduced deconstructed waterproof trench, the brand's first-ever outerwear piece. UNIFORM is Marina Moscone's first foray into eliminating wholesale margins to cater to a wider range of brand enthusiasts, giving access to a greater pool of customers. Offering comfort and a sense of belonging, UNIFORM is a closet essential that's made with quality Italian materials and expert craftsmanship.
23 Rick Owens and Champion Collaborate for a Third Time
Who: Rick Owens and Champion
What: Third joint capsule collection
Where: Available online at rickowens.eu, at select retailers, and in Rick Owens stores
Why: Third time's the charm for Rick Owens and Champion. The storied fashion line and athletic label are teaming up yet again on a capsule collab. As in the past, the genderless collection will have sustainability at the forefront of its mission, this time via sweats, tees, mesh shorts, and lightweight outerwear pieces in of-the-moment earth tones, featuring a reimagined version of the iconic Champion logo. This year's iteration also introduces new categories such as swimwear, innerwear, and socks, as well as essential accessories like athletic-inspired caps, headbands, bags—even a new balaclava. The color story told in the collections' products reflects those found in nature, as a testament to the two brands' dedication to creating conscious clothing. The best part? Each piece was predominately made using locally sourced materials, while all packaging will incorporate plastic-free, biodegradable materials.
24 Dolce & Gabbana Announces Dolce & Gabbana Beauty
Who: Dolce & Gabbana
What: New direct operation beauty line
Where: Available online at dolcegabbanabeauty.com and at select retailers
Why: Dolce & Gabbana made its first foray into the beauty industry with its 1992 fragrance, simply named Dolce & Gabbana for Women. Since then, the Italian house has created over 100 fragrances (including colognes) and collaborated with some of the biggest names in perfumery. All the while, D&G has developed a list of comprehensive makeup products to accompany the most renowned cosmetic lines on the market. Now, the brand is making things official with Dolce & Gabbana Beauty, a whole new company that will be based in Milan under the leadership of president and CEO Alfonso Dolce and operating CEO Gianluca Toniolo. The venture will "interpret Dolce & Gabbana's beauty vision: eternal, instinctive and joyful," Toniolo says in a press release, and become a Milan hub for burgeoning talents to reflect an environment of Italian culture and tradition, offering a unique cosmetic experience for beauty lovers across the globe.
25 MOTHER Serves Up SNACKS!, a New Collection of Nostalgia-Inspired Jeans
Who: MOTHER
What: New denim collection
Where: Available online at motherdenim.com and in stores globally
Why: For its latest denim range, MOTHER is taking inspiration from self-reliant latchkey kids of the '80s and '90s and their after-school snack routines. The new collection of throwback, nostalgia-inspired styles made in Los Angeles out of 100 percent cotton are reimagined for the next generation of cool kids. SNACKS! features buttons with pretzel details and candy-shaped interior rivets, designed to be worn low and loose at the hips, with cutesy names like "Fun Dip Puddle" and "Twizzy Skimp." The nine-piece collection of jeans and jorts with pineapple leaf patches and deep pleats is meant to be styled every which way. "With SNACKS!, we were playing with proportions and bigger jeans in general," says Tim Keating, creative director and co-founder of MOTHER. "It is more objective and about how you want to wear it."
26 Maison Kitsuné Joins Forces with Olympia Le-Tan
Who: Maison Kitsuné and Olympia Le-Tan
What: Fox Day Afternoon collaborative collection
Where: Available online at maisonkitsune.com and at Maison Kitsuné boutiques and select retailers on Feb. 17
Why: Olympia Le Tan and Maison Kitsuné founders Gildas Loaëc and Masaya Kuroki go way back, and the longtime friends are paying homage to their roots with an exclusive collaboration, titled "Fox Day Afternoon." The collection combines Parisian and NYC cool with men's and women's pieces that give subtle nods to city landmarks. Take, for example, an illustration of Maison Kitsuné's trademark fox scaling the Empire State Building like King Kong."The collection is a journey through New York, London, and Paris," Le-Tan exclusively tells ELLE.com. "I was very inspired by the preppy style of the late '80s and early '90s that you see in Whit Stillman's movies or Jay McInerney's book Bright Lights Big City." In the accompanying campaign, shot by Peter Schlesinger, you'll see plenty of cardigans and pencil skirts, as well as Zabar's mugs.
27 KENZO's New Creative Director Nigo Drops First Limited-Edition Capsule
Who: Nigo, creative director of KENZO
What: Limited-edition capsule, Boke
Where: Available online atkenzo.com
Why: KENZO has released its first capsule of SS22 under the artistic direction of Nigo, the Japanese Renaissance man known for urban clothing creations like A Bathing Ape and Billionaire Boys Club. With the release of Boke, Nigo is introducing himself to the Paris fashion world as KENZO's incumbent via an exclusive series of bold, energetic pieces emblazoned with graphic language. The boke, a Japanese flower that blooms in February, decorates two five-piece wardrobe sets for men and women that are genderless in nature. In his downtime, Nigo moonlights as a record producer and DJs for the Japanese hip-hop group Teriyaki Boyz. To honor the philosophy of the brand's founder Kenzo Takada, each drop of Nigo's collections for the season revolves around natural elements that tie the wisdom of Takada's past with the streetwear-focused future of KENZO.
28 Sacai and ACRONYM Announce New Collab
Who: Sacai and ACRONYM
What: Limited collaborative release for SS22
Where: Available at select Sacai retailers and online at sacai THE store
Why: The highly sought-after Bonding collection from Sacai and ACRONYM's men's SS22 and pre-spring collections has arrived, and we fully expect it to sell out fast. Japanese designer Chitose Abe honed her talents as a pattern cutter for Comme des Garçons. Her partner in the collab is Munich-based label ACRONYM, which specializes in functional apparel and often features monochromatic themes in its innovative designs. Together, the two created ACRONYM's first water-repellent coat dress, as well as a Chesterfield coat fuses technical expertise and with Sacai's fabrics and signature shapes. The result? Both brands wound up feeling closer than ever—dare we say bonding!
29 Nodaleto Debuts First-Ever Bridal Collection
Who: Nodaleto
What: Debut bridal shoe collection
Where: nodaleto.love
Why: Julia Toledano's Italian shoe brand Nodaleto is introducing its inaugural bridal collection, spurred by Toledano's own recent engagement. Toledano's kinship with her girlfriends mixed with her love affair of shoes culminated in a dedication to all brides and their chosen sorority. The brand's announcement is accompanied by a dreamy campaign shot by Hugo Comte around the infamous hurried wedding ceremonies of Las Vegas. Sin City serves as a backdrop for the Nodaleto bride, the ever-stunning Stella Maxwell, who embraces her inner wild child in chic and minimal heels. Her vibe emulates pop culture icons like Madonna and Sharon Stone while romping through the chaos and camp—Elvis impersonators, slot machines, 24-hour chapels lit up in neon. A new bride's girls'-night-out energy radiates from Nodaleto's first step down the aisle with this romantic collection of satiny, sparkling bridal shoes.
30 Christian Louboutin Releases Our Angels
Who: Christian Louboutin
What: Newly released capsule collection
Where: Available exclusively at Nordstrom, in select Christian Louboutin boutiques, and online at christianlouboutin.com
Why: Floating down from above comes a new heavenly capsule collection from Christian Louboutin. Titled Our Angels, the genderless line of shoes and accessories are made to showcase individuality beyond the parameters of expectation. To put it simply, this collection is made for people who aren't afraid to stand out. Included are androgynous ankle length and mid-calf length lace-up platforms as well as over-the-knee boots, offered in the maison's widest range of sizes to date (from 36 to 46). Our Angels also includes cherubic crossbody bags crafted in luxury materials, including satin and leather, with intricate floral embellishments. Grosgrain gives the collection a heavenly sheen and caters to the spectrum of genders, rendering the shoes fitting for anyone who revels in the spirit of self-expression with divine indifference to any set standard.
31 Missoni and ACBC Debut '90s-Inspired Sustainable Sneaker
Who: Missoni and ACBC
What: New capsule sneaker collection
Where: Available online at missoni.com and acbc.com and in ACBC and Missoni stores
Why: Two "Made in Italy" brands, Missoni and ACBC, are reaffirming their joint support of the sustainable footwear movement with a new capsule, Basket '90s. ACBC (Anything Can Be Changed) is a Milanese brand oriented in designing eco-friendly fashion and sportswear. To inform their inspiration for a revival of a classic favorite, the collaborators looked to the storied past of brand founder Tai Missoni, an Olympic hurdler who is partially credited with helping ensure Italy's global success in fashion. The Basket '90s renew an artifact from the era when sportswear really exploded, but with a modern consciousness of climate change. Elements of the sneaker are constructed from fruit peels, recycled plastic bottles, and corn-derived materials, assuring that the unisex shoe's circularity will create less environmental impact. The distinctive Missoni design combined with ACBC's innovative processes take form in overlapping colorful stitches and patterns, demonstrating a respect for brand tradition and for our planet.
32 DL1961 Partners with Recover™ to Create Circular Denim
Who: DL1961
What: DL1961 Recover™ denim collection
Where: Available online at dl1961.com
Why: As part of its ongoing path toward sustainability, premium denim label DL1961 has partnered with leading material sciences company Recover™ to create what is dubbed "the world's first high performance circular jean." What does that mean, exactly? The denim in the five-piece DL1961 Recover™ capsule collection is made from previously-worn clothing, woven together with eco-friendly tech fibers, and manufactured using recycled water and solar energy—all in DL1961's best-selling silhouettes, available in sizes 23-34. To front the campaign, DL1961 tapped model, philanthropist, and, fittingly, founder of the eco-friendly lifestyle brand Tropic of C Candice Swanepoel.
33 Miu Miu and New Balance Collaborate on 574 Sneaker Launch
Who: Miu Miu and New Balance
What: Sneaker collaboration
Where: Exclusively on miumiu.com and at Miu Miu boutiques
Why: For its SS22 runway show, Miu Miu debuted a new sneaker collaboration with New Balance as a display of impulsive fashion design with an athletic purpose. The distinguishing feature of Miu Miu's Basic Instincts line is an exposé of raw-cut edges that reflect the spontaneity of construction. The classic 1980s New Balance 574 is reimagined alongside Basic Instincts in white, khaki, and blue denim colorways that maintain the silhouette from the heritage sport brand's original model while deconstructing the materials at their face value. The implication of the Miu Miu x New Balance 574 is that each brand has created a hybrid that underlines the freedom of designing without premeditation, making plans only according to the natural rise and fall of the creative process.
This content is created and maintained by a third party, and imported onto this page to help users provide their email addresses. You may be able to find more information about this and similar content at piano.io