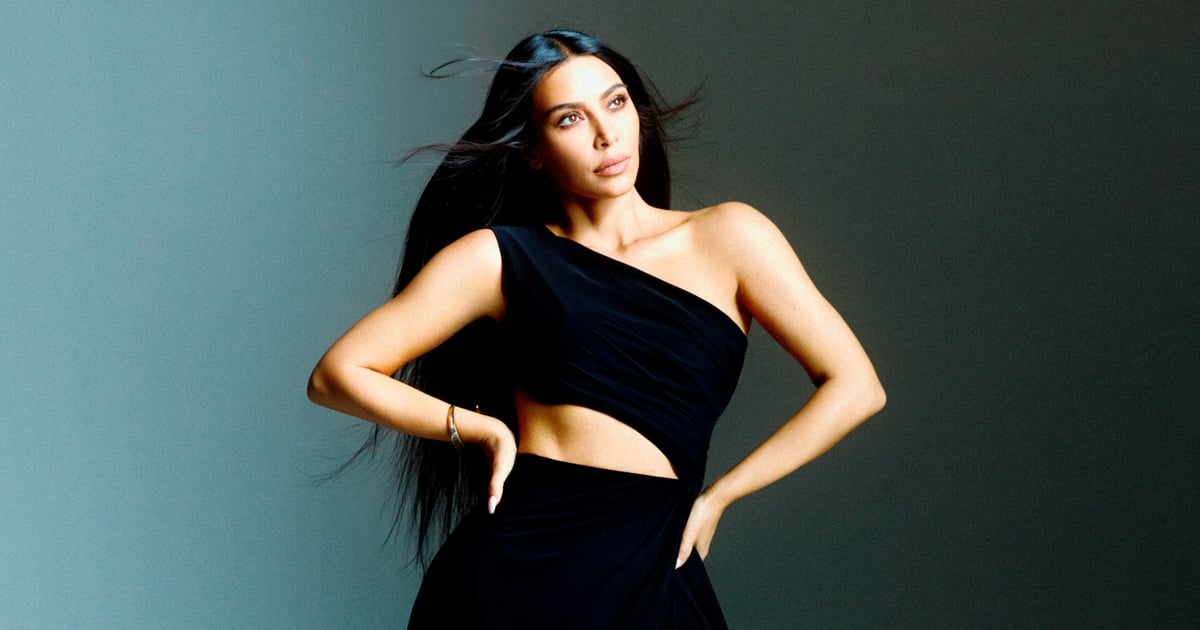 Kim Kardashian is embracing independence. Though headlines about her high-profile divorce and dating life abound, the reality star and billion-dollar entrepreneur is prioritizing herself. "My 40s are about being Team Me," Kardashian said in a new Vogue cover story — her third in eight years. "I'm going to eat well. I'm going to work out. I'm going to have more fun, spend more time with my kids and the people who make me happy."
For the March 2022 cover, styled by fashion editor Carlos Nazario, Kardashian wears a watercolor dress with a sculptural, silver breastplate from Loewe's spring 2022 collection. Save for several flash photography shots with Kardashian's four children, the spread features muted tones, not unlike her monastic home. In other photos that evoke Cher, Nina Simone, and Cleopatra, Kardashian wears cutout gowns by Valentino and Balmain, paired with futuristic wedges by Jimmy Choo and Giuseppe Zanotti.
In the accompanying interview, Kardashian offered the backstory of her plot-twist of an outfit at the 2021 Met Gala, which swaddled her in black fabric from head to toe. Though it's now among her most iconic looks, Kardashian was initially unsure and had to be convinced by its designer, Balenciaga creative director Demna Gvasalia. "I fought against it. I was like, I don't know how I could wear the mask," Kardashian said. "Why would I want to cover my face?"
Gvasalia insisted on the "shadow" look, especially the mask. "People would know instantly it was Kim because of her silhouette. They wouldn't even need to see her face," Gvasalia said. "And I think that's the whole power of her celebrity, that people wouldn't need to see her face to know it's her." Kardashian has continued to inspire Gvasalia, and more recently, she was the face of Balenciaga's spring 2022 campaign, which was shot at her home.
See photos from Kardashian's third Vogue shoot ahead.