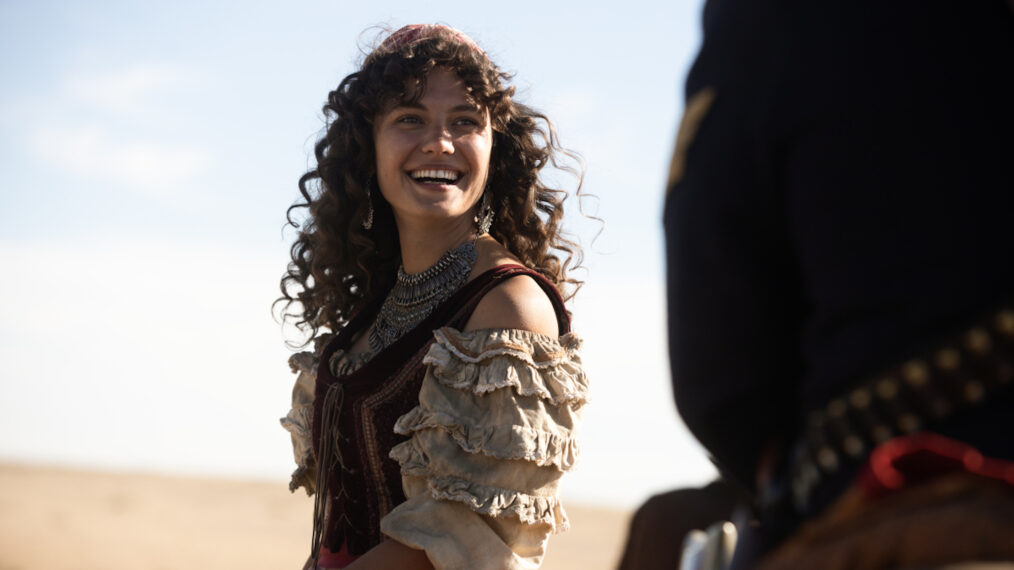 There was plenty of heartbreak along the 10-episode journey of 1883, so that made the happy ending — at least, we hope it stays that way — for Thomas (LaMonica Garrett) and Noemi (Gratiela Brancusi) that much sweeter.
As the finale ended, it jumped forward a year after Elsa's (Isabel May) death, and a moment that made us smile was seeing Thomas and Noemi, with her kids, seemingly about to settle down into the life in Oregon they'd dreamed. It was a "very unexpected joy," Brancusi tells TV Insider of that moment. "It's not really something people saw coming, I don't think."
The actress breaks down Noemi's season and shares her hopes for her character's future.
How is Noemi feeling about her journey? It was a rough one, to say the least.
Gratiela Brancusi: Because of where she's coming from and her history and the history of her people, not a lot of people in her family and line of ancestry have really found the kind of freedom that she's found, and I don't really know what that must feel like. I feel like I've barely scratched the surface. But it must be overwhelming. And I imagine it takes a while to even acknowledge that one has found that kind of joy and love and freedom after centuries of being nowhere near that.
There's also a bit of heartbreak with the talk about how the kids aren't talking to her, but they're talking to Thomas.
Yeah, and I think that's weighing heavy on her, the fear that she's been a bad mother and she lost her husband and I think their decision to come out here, she was driven by it more than him be in a way, although at the time women didn't really make that sort of a decision. But I think she's very different in many ways. Probably both were determined to escape, slavery had just been abolished in the Romanian territories and all around Europe, they were still dealing with oppression and such. She does feel guilty for whatever this trip might do to her kids, even past their Oregon happy ending.
Emerson Miller/Paramount+
Noemi and Thomas' relationship was enjoyable to watch throughout the season, because it gave these little glimmers of happiness, but at the same time, there was a hesitance to it, especially on his part.
I don't want to speak for Thomas, but I think someone with his history does not really find it easy to believe in love and hope and even the idea of people getting what they deserve because he hasn't really seen that. And I think he knows where she's coming from because the Roma people in the U.S. at the time came on a ship with Columbus, and they were shipped out here as slaves. So I think he knows her background. And so for him, the idea that the two of them would ever have even a relationship is probably what slowed things down.
Whereas for her, she's so unique in the sense that she takes this step. In the culture, Roma women, once they become widows, stay widows for the rest of their lives, and so usually a woman who will pursue love or their dream of love again will be excommunicated. Now she didn't have her community with her, so no one to really excommunicate her, but I think that the community lives within us, especially when you're raised in a traditional sense. And so in order for her to allow for this love to nurture, she's had to shed a lot of skin and she's had to shed a lot of history.
Do you think they have a shot at making something last because as we saw with other characters, things often ended in heartbreak and tragedy?
I want to say yes. I'm a romantic and I want to hold on to the idea of hope and love. I think these two characters have known so much pain and inherited so much pain and they deserve love for the remainder of their lives.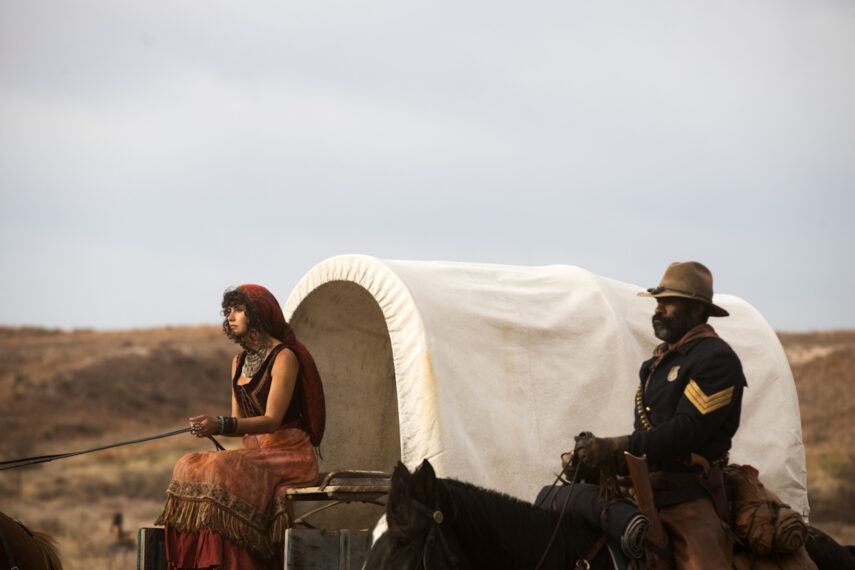 Emerson Miller/Paramount+
Talk about filming the scene with Josef's [Marc Rissmann] leg because that was brutal to watch.
To be honest, I haven't watched Episodes 9 and 10 because I'm not really ready. I feel like once I watch them, I'm going to say goodbye and I'm not really ready to say goodbye. But it was brutal. I still remember the sound of it, and I don't know what it sounds like right now after editing and everything. I remember looking at some point as we were around his body, Faith [Hill] and Tim [McGraw] and myself, and Sam [Elliott] and LaMonica were on the other end and maybe a little braver than us. But I remember looking at Faith and Tim and thinking, oh my God, all three of us are gonna lose it. It just looked like we were getting sick to our stomachs.
When I spoke with LaMonica, he brought up the sound, too.
That sound will stay with me forever. It's just something that I cannot get out of my mind. Especially that night when we went back to where we were staying, I just remember it was so vivid. I don't know what they used, but it was insane, The sound of the flesh and the sound of the bone more than anything, I can't really forget it. There's not a lot of sounds that have stayed with me for so long, and it just feels like I just heard it two minutes ago. It was brutal.
Emerson Miller/Paramount+
What was your favorite scene to film?
I love all of them, but maybe Episode 6, the morning scene when they wake up and when [Noemi] reaches down and she holds [Thomas'] hand because I think a lot changes there in both of them and that's where sort of this new chapter begins for both of them. And then obviously Episode 3, my scene with Sam and LaMonica, which was my first dialogue scene on camera, and it was so overwhelming and scary and at the same time, so beautiful because working with someone like Sam and LaMonica, who are so supportive and so kind to me and so generous, was such a good example of how far generosity can take us. I'll definitely never forget that one.
The handholding scene is so sweet. It shines brighter because of how dark so much was on this journey for them.
Yeah, and LaMonica did such a good job creating his character and you can see how foreign this gesture is to him, a tender gesture. It's just something he's never really known, so he doesn't know how to even do it. It's just so beautiful in so many ways, and it's just beautiful to see her take ownership. She doesn't know specifically of all the trauma he's been through and all his background, but I think she feels it in him. Two people who've had two really hard lives, when you're in a room, you can sense it without speaking of it. I think that's why she's sort of taken the lead here, and she knows he feels all the things he feels, but also he's not really acting on it. It's just so beautiful, the way Taylor [Sheridan] wrote it. Because Thomas takes care of her by building her up and by bringing her to a point where she can take care of herself, she doesn't need him, which is such a selfless kind of love. I just love his character so much.
It seems that 1883 is done, though Paramount+ did say there would be "more" of it. If you had the chance, what would you want to explore with Noemi?
I was so grateful to be trusted with this part because I feel like the way Roma women have been represented in the past, the concept of a gypsy, it's been romanticized. And so I think more of her culture and her background and the role of a woman in her culture and especially a woman who's with a Black man who comes from slavery and hurt, too. I think it's just the love story between two people who've known that kind of a past and how do they make their love bloom?
We really did watch her come into her own.
She's a really brave woman and I think the kids are part of it. I don't know what it's like to have children, but I imagine when you have children, you don't really have a choice. You have to be brave and braver than you think you are for them, but they've seen a lot on this journey. At some point, Shea asks Thomas, "How's your lady?" and I think he says something like, "If we make it to Oregon, by the time we make it to Oregon, her skin's gonna be so thick you can't cut it with a knife." And I think that's what happens. And that leg scene, that's her thick skin.
1883, Streaming Now, Paramount+