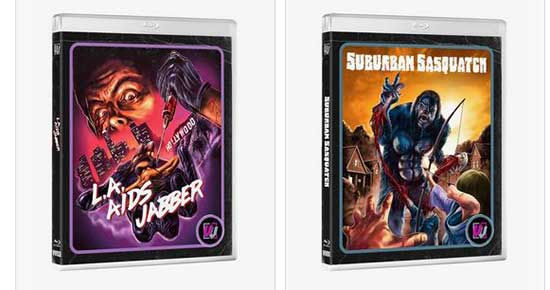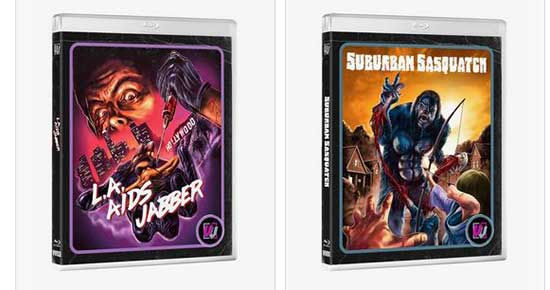 VISUAL VENGEANCE releasing SUBURBAN SASQUATCH and L.A. AIDS JABBER on Blu-ray this August
Wild Eye Releasing's new sister label Visual Vengeance, a collector's Blu-ray label dedicated to vintage Shot on Video and micro budget genre independents from the 1980s though 2000s, is excited to reveal the next two Blu-ray collectors editions in their fast growing catalog.
Two New Blu-rays are announced for August 2022, a cult favorite and a little-seen classic of SOV bad taste!
SUBURBAN SASQUATCH (2004)
SYNOPSIS: Perhaps the most beloved and recognizable shot on video movie of the last two decades, Dave Wascavage's cult classic sees its first time ever on Blu-ray and is packed with bonus features, including the full RIFFTRAX episode of the movie! When a giant blood-thirsty Bigfoot goes on a killing spree in a sprawling suburban park area, it's up to a couple of park rangers, a reporter and a mystical Native-American Warrior to try and stop Sasquatch's limb-ripping rampage.
Select Bonus Features:
– New 2021 Commentary by Director David Wascavage
– Commentary from Sam Panico of B&S About Movies and Bill Van Ryn of
Drive-In Asylum
– Includes full RIFFTRAX version of the movie
– Archival Behind The Scenes Featurette
– Making The CGI for Suburban Sasquatch
– From The Director's POV: Archival Interviews
– Limited Edition Slipcover designed by Earl Kessler – FIRST PRINTING ONLY
– Collectible Mini-poster
– 'Stick your own' VHS sticker set
– And More
L.A. AIDS JABBER (1994) (a/k/a JABBER)
SYNOPSIS: One of the rarest and most sought-after bad taste movies of the SOV era. Jeff, a mentally unstable young man is diagnosed with AIDS and takes his anger out on the world by filling a syringe with his own tainted blood and trolling the seedy streets of Los Angeles looking for victims in an acid-washed and venomous delirium. Police slowly piece together his crimes in an attempt to stop this ticking virus time bomb from jabbing again. This is the first wide release of the movie since it was self-distributed by director Drew Godderis himself, and the Blu-ray is packed with newly produced bonus features and commentary from the original creators.
Select Bonus Features:
– Commentary Track with Director Drew Godderis
 – Lethal Injection: The Making of L.A. AIDS JABBER
 – Bleeding The Pack: An Interview with Lead Actor Jason Majick
 – L.A. AIDS JABBER – 2021 Locations Visit
 – Interview with Blood Diner Director Jackie Kong
 – Actress Joy Yurada Interview
– Cast and crew Interviews
 – Liner notes by Tony Strauss of Weng's Chop Magazine
 – Limited Edition Slipcover – FIRST PRINTING ONLY
 – Reversible BR sleeve featuring original VHS art
 – Collectible Mini-poster
 – 'Stick your own' VHS sticker set
 – And More