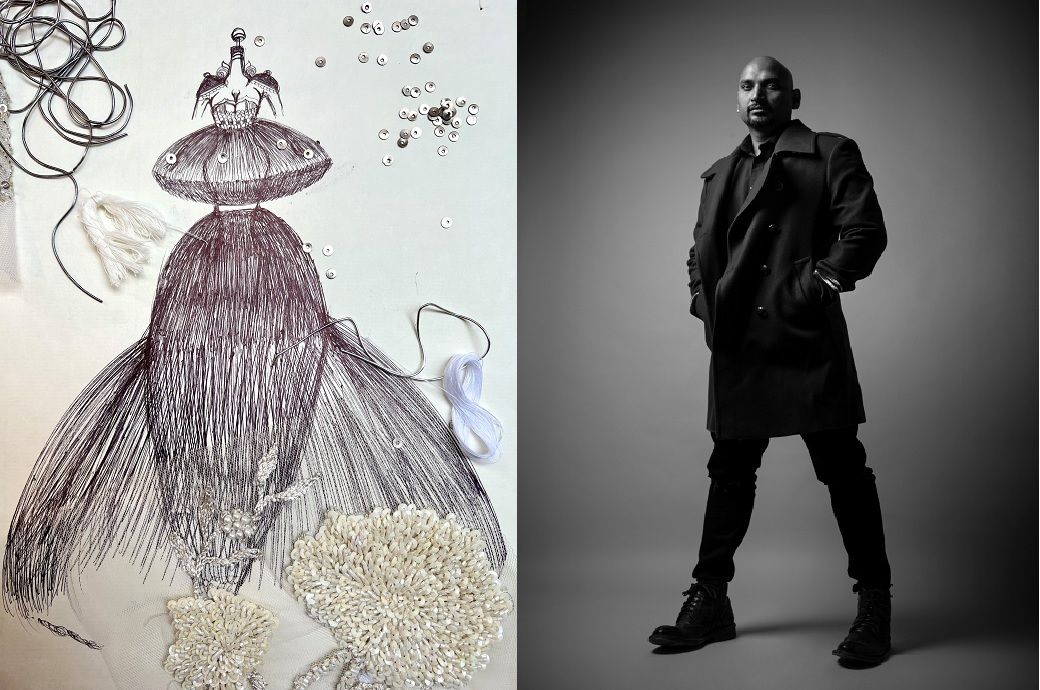 Celebrated for infusing traditional craftsmanship to the contemporary fashion landscape in India, designer Samant Chauhan is all set to showcase his latest presentation, 'Ice Watch' as the opening designer of the Atelier at the upcoming edition of Lakme Fashion Week in partnership with the Fashion Design Council of India (FDCI) in New Delhi. Samant's showcase on October 11, 2023, will kickstart a series of presentations at the Atelier, a space designed for experimental presentations and shows.
The designer's exquisite collection, aptly named 'Ice Watch', beckons audiences with its ethereal allure and a poignant message echoing the vulnerability of glaciers. It is a testament to his fascination with the pristine beauty and fragility of ice, a theme deeply embedded in his artistic soul, the FDCI and Lakme said in a joint press release.
Samant Chauhan is set to open the upcoming edition of Lakme Fashion Week in collaboration with the FDCI in New Delhi with his collection named 'Ice Watch'.
Chauhan's pieces celebrate his heritage, using materials like Bhagalpuri silk.
His designs range from avant-garde gowns to jacket dresses, incorporating various necklines and sleeve styles.
Hailing from Bhagalpur, a city steeped in silk-weaving tradition, Samant Chauhan's designs are a homage to his roots. With meticulous craftsmanship and an unwavering commitment to revive Bhagalpur silk, he adorns his creations with organza silk, cotton silk, and Bhagalpuri silk. The colour palette, which are predominantly whites and shades of blue, with delicate hints of grey, green, and purple, paints a picture of serene elegance.
"I am thrilled to be showcasing this season at Lakme Fashion Week x FDCI! The concepts of ice and glaciers were abstract to me as a child growing up in Bhagalpur. Throughout my life, these natural elements have continued to captivate me. This collection is a manifestation of my preoccupation with snow, and I hope the audience will be just as enraptured as I am," said designer Samant Chauhan.
Chauhan's designs seamlessly meld the timeless charm of Bhagalpur silk with contemporary fashion sensibilities. From avant-garde gowns to jacket dresses, his silhouettes grace runways with a diverse array of necklines, from sweethearts to off-shoulders, halter necks, and V-necks. The sleeve options are equally varied, ranging from sleeveless to puffer sleeves, Victorian sleeves, capes, and artistic styles.
His garments, adorned with beadwork, sequins, pintucks, quiltings, ribbon work, and hand thread embroideries, are not mere clothing; they are wearable art. Swirling lines, abstract shapes, and geometric patterns dance across the fabric, infusing each piece with a touch of artistic brilliance.
In this collection, the inspiration of glaciers is ingeniously transformed into a myriad of derivatives, reflecting in categories like long gowns, short gowns, bridal trousseau, jacket dresses, bodycon dresses, and more.
Set within the grandeur of the Atelier, this showcase promises to be an unforgettable experience, mirroring Samant's passion and fascination with ice and snow, added the release.
Fibre2Fashion News Desk (NB)