Happy Sag season, y'all! After a tumultuous few weeks of eclipses and a sneaky Scorpio season, the long-awaited ~good vibes~ are finally in order. The planets have swiftly shifted from the somber, emotional water sign into the fun and free fire sign Sagittarius (Nov. 22 to Dec. 21), putting the collective into more uplifting spirits just in time for the holidays.
If you need a sign to: send those risky texts, wipe those tears, leave your room, splurge on those woven Bottega Veneta boots you've been eyeing since last year… This is it.
Sagittarius is ruled by Jupiter, a planet of abundance, luck, expansion and optimism, which is why (for the most part) a Sag will always have their best foot forward and a cheeky smile on their face.
The New Moon in Sagittarius early last week was one of the luckiest days of the year for manifesting and setting intentions post-Eclipse. The moon in Sagittarius aligned with the two benefics in astrology — a.k.a. the luckiest planets in the sky, Venus and Jupiter. It made a trine (i.e. harmonious aspect) to Jupiter, the planet of abundance, and joined Venus in Sagittarius, the planet of love and beauty. If you have a project you've been wanting to bring to life or been wanting to move somewhere new, harness the revitalizing energy of the next two weeks to make those plans.
After moving in retrograde since July 28, Jupiter — in its home sign, Pisces — is now stationed directly. Jupiter rules over freedom, expansion and visions beyond our wildest dreams; to be in retrograde is to have limitations and restrictions — a big fear for Jupiter. The direct motion of Jupiter should clear away limiting beliefs surrounding faith in the house that you have Pisces in and usher in some much-needed abundance for the next month, before it moves into Aries right before the New Year.
Now for what you're actually here for: the fashion stuff! First, let's do a roll call of my favorite Sagittariuses in fashion, which include Gianni Versace, Thierry Mugler and (I'm getting teary-eyed writing this one following his recent departure from Gucci) Alessandro Michele — or what I like to call, The Holy Trinity of Maximalist Fashion™. Always over the top, these fashion designers have never been afraid to think outside the box and bring their larger-than-life Sagittarian fantasies to the runway.
In honor of Sag season, I've compiled a gift guide for everybody's favorite comedians. Being the fab fashion writer/astrologer/detail-oriented Virgo I am (the credentials are obviously there), I've curated the list so every item has some kind of astrological, Sagittarian connection to it. Enjoy!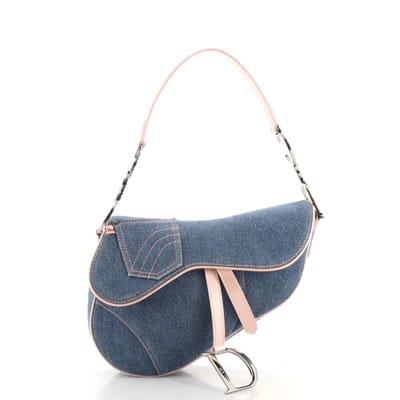 Christian Dior Vintage Saddle Bag Denim Medium, $1,430, available here: This timeless purse, created by John Galliano for Dior in 1999, found her fame strapped on Carrie Bradshaw's shoulder in "Sex and the City," before being revived by Kim Jones and Maria Grazia Chiuri in 2018. It's been a staple in the most fashionable of closets since — but, instead of spending thousands of dollars on a new one, opt for one from a secondhand retailer like Rebag. (This gorgeous denim version, for example, will go with any outfit.)
Now how on earth does this relate to Sagittarius? Not only does Sagittarius rule over horses, but Galliano is also a Sagittarius himself. (Fun fashion fact: Emilio Pucci is a Sagittarius rising, and in his biography "Pucci: A Renaissance In Fashion," his lifelong friend Susanna Agnelli describes him as "tall, thin as a skeleton, with the long, sad face of a horse.")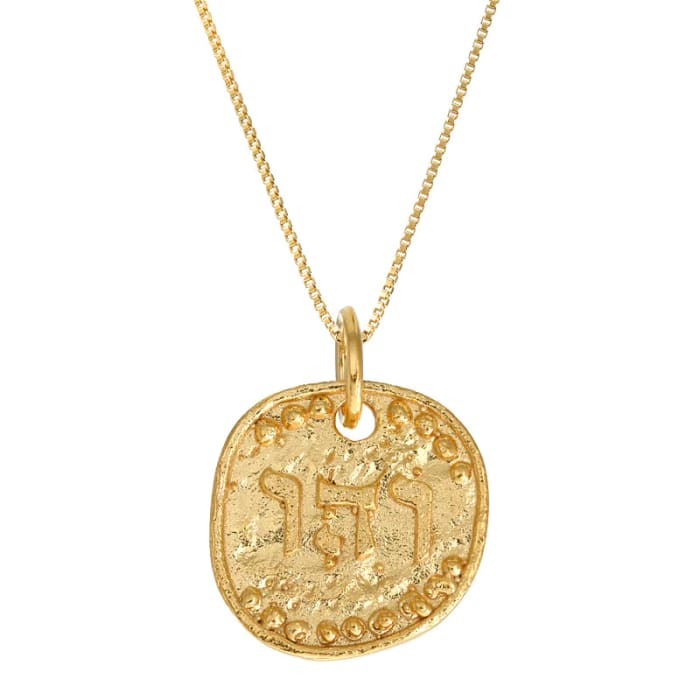 Alchemy by Leeor Alexandra The Bliss Amulet, $130, available here: Religion, philosophy and faith are all ruled by Sagittarius, a sign constantly on the path towards spiritual truth and enlightenment, alongside its cousin Pisces. Spiritualist Leeor Alexandra's jewelry brand Alchemy makes amulets that aid in manifesting love, healing, prosperity and happiness.
These sentimental amulets, or "segulas," serve as a "protective and benevolent Kabbalistic charm," according to Alchemy. The front features three of the 72 sacred Kabbalah words that are aligned with the manifestation of your choosing. The Bliss Amulet is meant to promote positive energy, diffuse negative energy and encourage peace of mind and tranquility.
Stack your amulet with a chain-link necklace or two — the more, the merrier. If TikTok muse Hailey Bieber (fellow Sag) is doing it, so should you!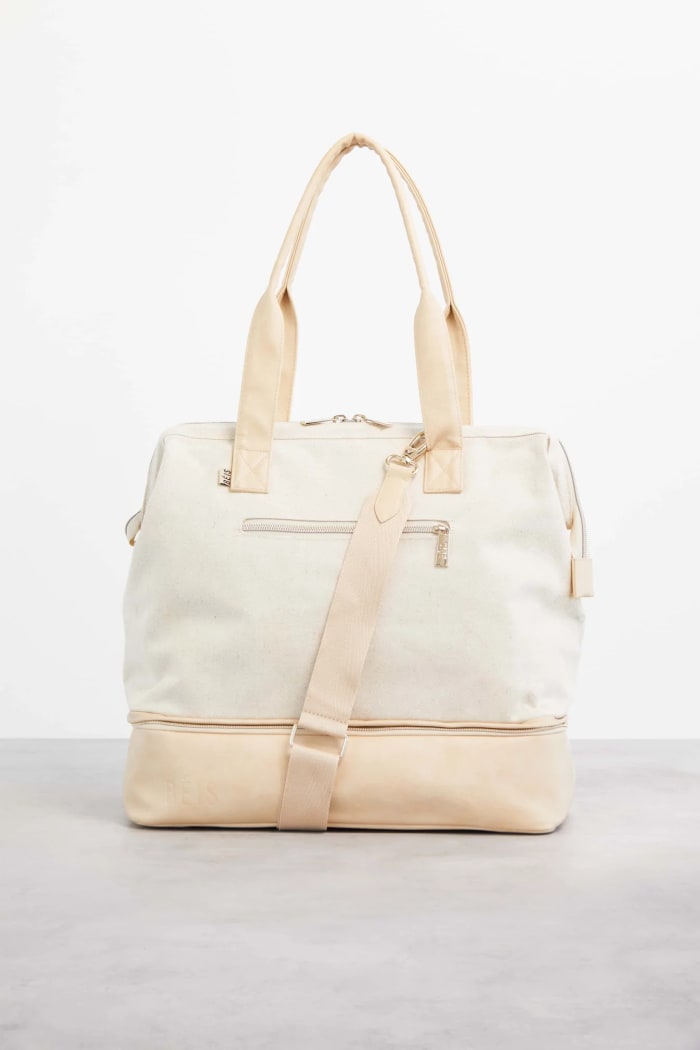 Béis The Convertible Mini Weekender, $108, available here: If there's one thing a Sag is going to do, it's book a flight whenever they want to. 
Sagittarius is the ruler of the ninth house in astrology, and besides spirituality and higher education, this house rules over foreign travel and exploration. In stereotypical fire-sign fashion, Sags are always catching both flights *and* feelings, so it's only fair for them to be gifted a chic weekender from Béis, for when they need to look extra cute meeting their future spouse at the airport.
Designed by Shay Mitchell, Béis luggage is large enough and filled with enough compartments to carry all kinds of baggage — emotional and otherwise.
Assouline "Louis Vuitton: Virgil Abloh" (Classic Cartoon Cover), $120, available here: It's hard to believe that it's been a year since the fashion world lost creative visionary Virgil Abloh. I want to do my part in keeping his legacy alive by pre-ordering "Louis Vuitton: Virgil Abloh" by Assouline, which features a beautiful cartoon cover referencing the designer's Spring 2021 show for Louis Vuitton and personal images and words from Abloh's inner circle. It's the perfect colorful addition to a Sagittarius' already-colorful coffee table, and a pick-me-up from fashion's most innovative creative, to satiate their inquisitive minds.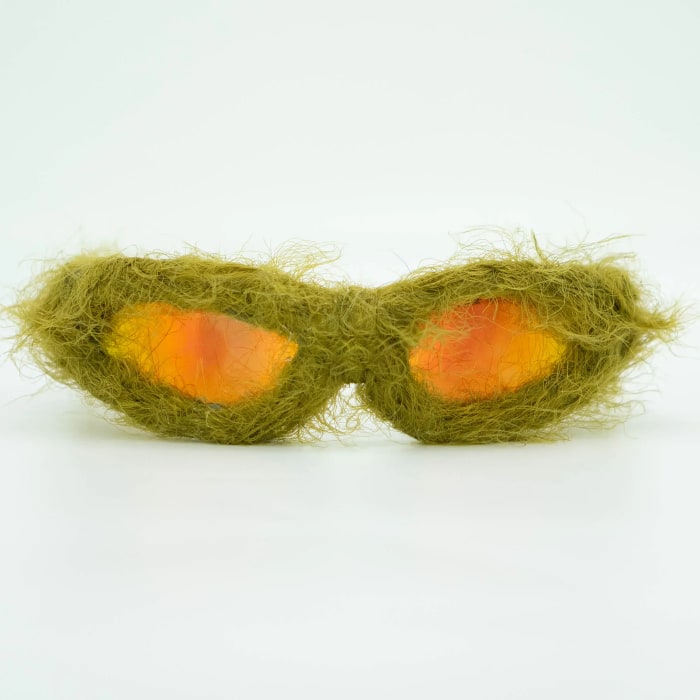 Pipenco Lorena Kaki Furry Sunglasses, $250, available here: On behalf of glam, fashion and Sagittarian maximalism: Furry sunglasses are in, and small pets as an accessory are out! 
As a mutable sign, Sagittarius is prone to spontaneity and change. Keep your wardrobe fun and fresh with New York-based designer Lorena Pipenco's furry sunglasses. The emerging designer uses upcycled yarn and a Romanian embroidery technique she learned from her mother to create the eyewear. You can DM her on Instagram for custom work. (Supporting small fashion designers is also very much IN!)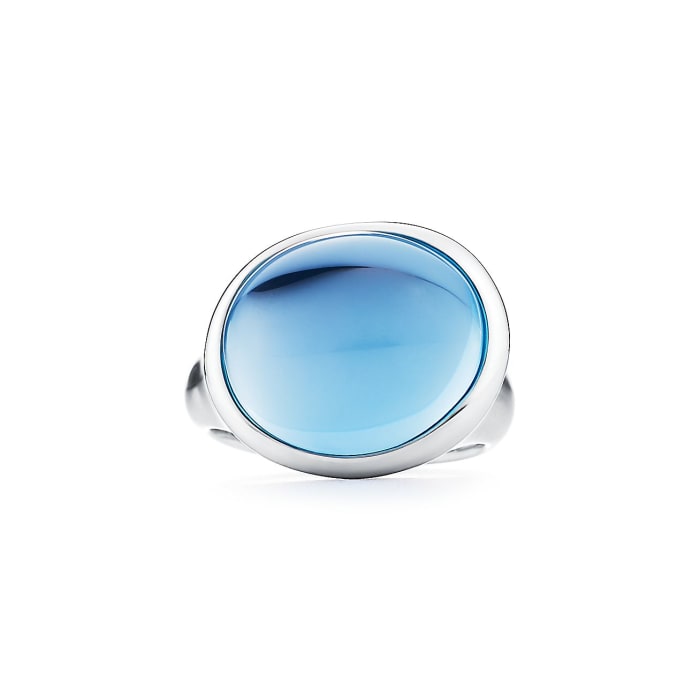 Tiffany & Co. Elsa Peretti® Cabochon Ring, $1,175, available here: If you find a shiny, blue topaz cabochon ring from Elsa Peretti's Tiffany & Co. line laying around, please return/give it to your dearest Sag friend. Blue topaz is the sign's most special birthstone; the calming energy of these semi-precious gems is used to heal your throat chakra, relieve any stress and help you express the truth. 
Cushioned on a sterling silver metal, the blue topaz stone here is set in Peretti's iconic fluid shape — a classic piece of fashion history on your finger.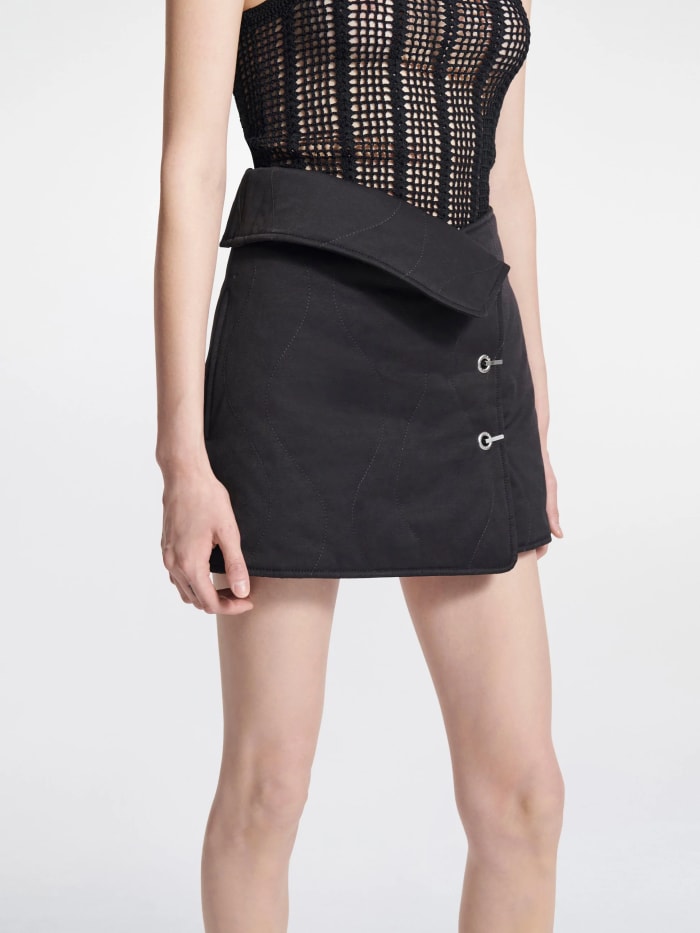 Dion Lee Wave Quilted Mini Skirt, $325 (from $760), available here (sizes US 4-18): The Miu Miu mini saga continues, but this time the silhouette is rewritten by Dion Lee in the form of a quilted asymmetric wrap skirt embedded with latch hardware.
In astrology, Sagittarius is the ruler of our legs, more specifically our thighs. Embrace what the stars gave you with a mini skirt made by Australia's most refined designer, which happens to be 50% off and come in three colors.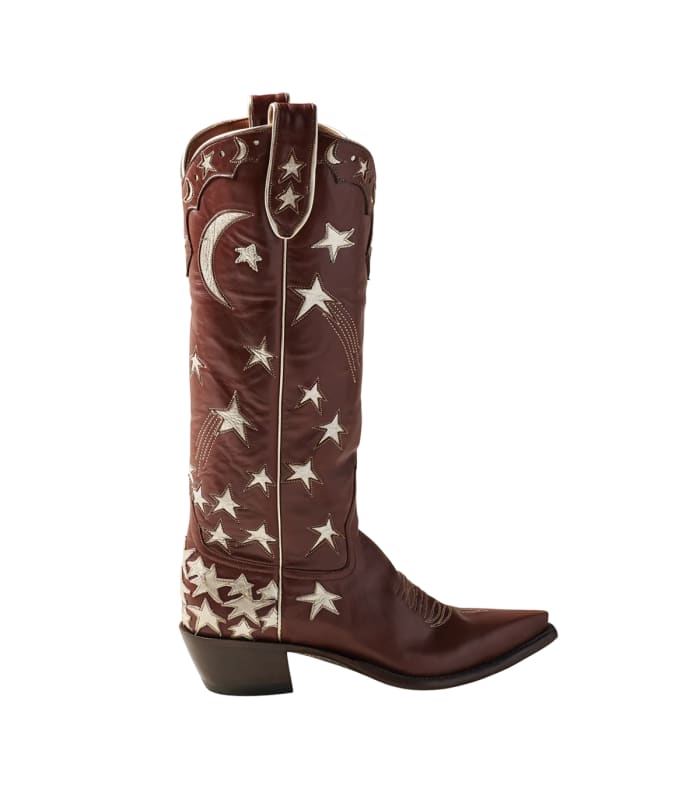 Miron Crosby Margretta Caramel Boots, $2,795, available here: City Girl meets the Countryside. If you're going to commit to the whole western vibe of Sagittarius, you can't do it without a pair of cowboy boots from Miron Crosby, a brand founded by sisters and inspired by their experiences living between a Texas cattle ranch and New York City. These celestial caramel calfskin shoes are appliquéd with champagne metallic leather stars and crescent moons, so trust me when I tell you I screamed when I found them. They're perfect. Buy them.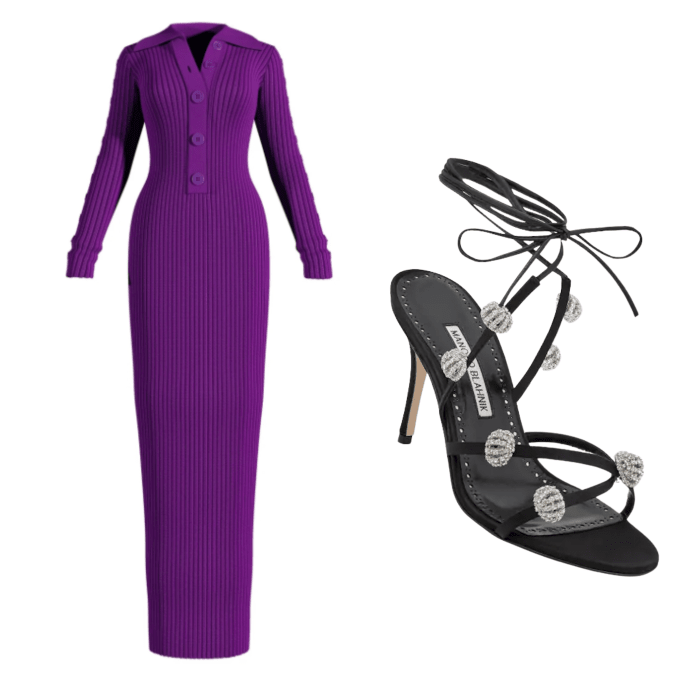 Hanifa Myra Knit Maxi, $369, available here (sizes XS-3XL) and Manolo Blahnik Elsaka Sandals, $1,645, available here: Looking for the perfect birthday dress? Figure-hugging and anchored with buttons on the sleeves, this incredibly flirty Hanifa knit style will have your confidence sailing through the roof. Purple is Sagittarius' lucky color, after all.
Pair it with a strappy embellished Elsaka sandal from Manolo Blahnik, who's a Sag king himself!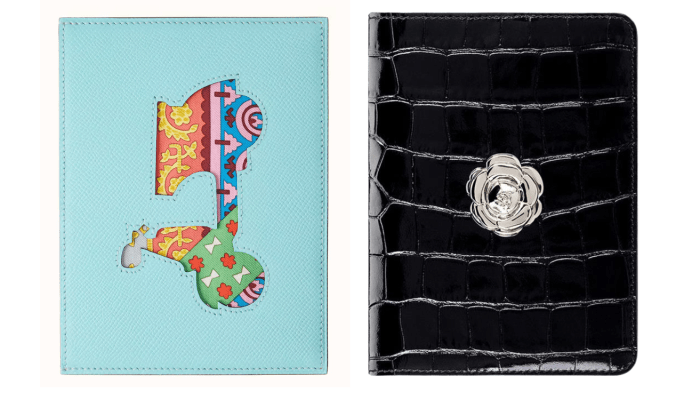 Hermès Passport Holder, $540, available here and Oscar de la Renta Black Croc-Embossed Passport Case, $320, available here: Because a Sag loves traveling so much, their passport is probably (certainly) falling apart. Protect their most valuable asset and fuel their jet-setter lifestyle with a chic passport holder. This baby blue calfskin one from Hermès, lined with printed silk twill, or this black croc-embossed one from Oscar de La Renta, topped with an iconic brass gardenia flower, imbues first-class regality even from the back of the plane. 
Christopher John Rogers Bergdorf Goodman Embellished Oversized Sweatshirt, $375, available here (sizes XS-XL): The superlatives are in, and for the power couple of the year we have: the holidays and Bergdorf Goodman. Christopher John Rogers collaborated with the iconic department store to bring this vibrant, sequined "BERGDORF GOODMAN!" sweatshirt to life in none other than Sagittarius Purple. 
Please note: Occasionally, we use affiliate links on our site. This in no way affects our editorial decision-making.
Never miss the latest fashion industry news. Sign up for the Fashionista daily newsletter.