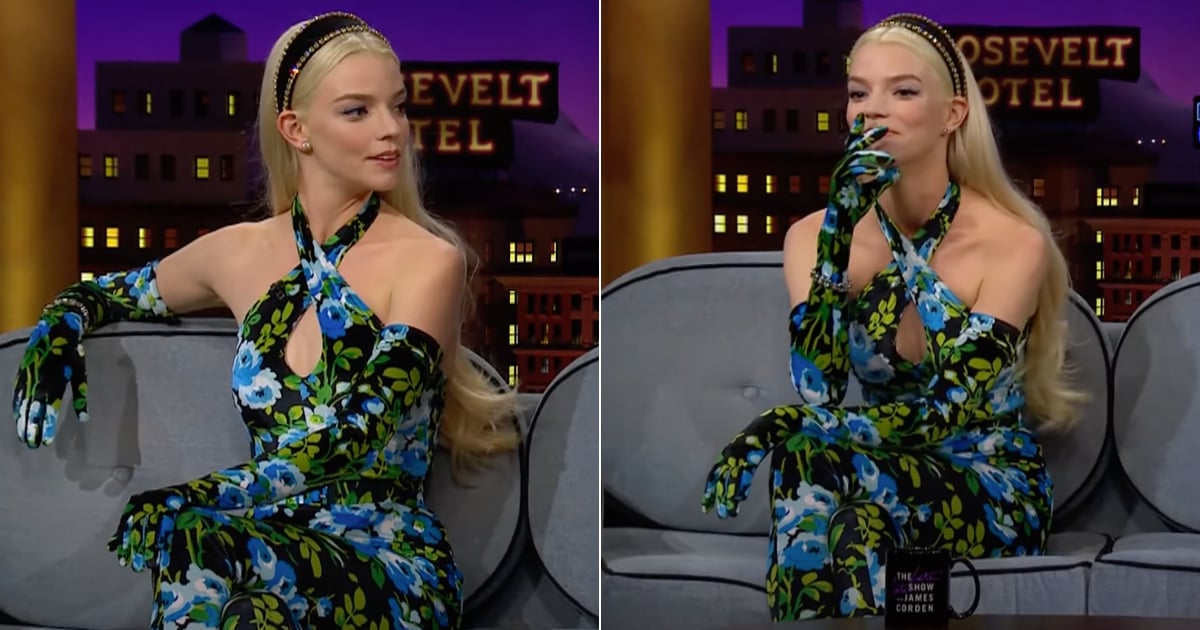 Anya Taylor-Joy is as fascinating as she is stylish. The Last Night in Soho actor wore a custom floral-print Richard Quinn catsuit that she cocreated with the designer for her interview on The Late Late Show with James Corden. Taylor-Joy completed the look with matching gloves and a black headband with crystal details.
"Her boots are a part of her outfit. I thought that was so cool — I've never seen that before!" Ben Schwartz said to Corden about Taylor-Joy's catsuit that extended to wrap around her shoes. "You designed this yourself, right?" Corden asked Taylor-Joy, to which she answered "A wonderful designer called Richard Quinn kind of, let me, help, a little bit. Just ideas, but he's lovely!"
After a few cheeky jokes, and a giggly chat about fashion with Schwartz, Taylor-Joy opened up about her insomnia. "I haven't slept since I was seven." She continued to explain that after seeing her parents fall asleep as a child and not knowing where they go (if dead or alive), it terrified her into staying awake and waiting for them to return. "This is more creepy than funny. I taught myself not to sleep because I saw my parents go to sleep, and it really freaked me out. I was like, where are they going? I can't go there, so I'm going to stay and watch until they come back," Taylor-Joy told Corden. But that's not all: the introspective star shared how whale sounds soothe her to sleep, that she was obsessed with incubating eggs as a child, and how to cry on cue — the interview is well worth a watch.